This Friday i am skipping the confessions, instead I am Daydreaming away!
Join me, and everyone else, and Link it up!!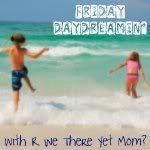 While Becca at
R We There Yet Mom?
is Daydreaming about her families upcoming spring break, our spring break is not for another 3 weeks
and i am totally NOT looking forward to it...
But we do have some weird 5 day
too long
weekend starting this afternoon!
This morning I got to pick my sister up who just flew in from Washington to spend a couple days with us! The weather is completely bipolar, and should be medicated. So is it spring/summmer or spring/summer mixed with winter?! Its crazy. While we have a busy couple of days ahead between all the kid activities and sports....i could daydream away about warm. sunshine. and fruity
rum inspired always
drinks!
That is my Kay Bear on the beach in Hawaii in 2010!
Please take me away, to this warm sandy beach.
I can hear the calm air, and feel the warmth of the sun shinning on us!
There is no hassle, there is no stress, just an amazing view!
It may be a long long time till my now family of 7 can enjoy a grand exciting vacation together, but some day i hope to be burying our toes in the sand, and watching the kids splash their hearts out!
And here is Auntie Lisa with the kids on that same vacation!
Daydreaming in full effect now!
But for now, i guess watching the travel channels top 20 beaches in America is as close as i will be getting. hey, i can always enjoy the drink with the TV!!